Location information on this page

We are offering services for corporate customers and individual customers as well.
Reliable GHG Measurement Methods
We provide reliable GHG measurement methods by our professional energy engineers and qualified person for energy management.
Energy-Saving Management / Consultation
Our experts are available for wide-range consultations on emission reduction. We also provide a type of consultation based on a contingent fee system upon cost reduction effects.
Product Planning for Carbon Offset / Carbon Minus
We are offering various types of carbon offset products by using emission credits of natural energies based on reliable measurement methods. We also offer products designed with absorption of CO2 generated out of our own forestation directly contracted with the local government in China.
Consultation for CDM Application
CDM application always requires a great investment of time and energy, such as complicated processes, high in cost, long preparation period, monitoring time, etc. We are available to help you apply CDMs in every step from feasibility study to scheme of CDM.
Our GHG calculations comply with the laws / regulations / guidelines listed below :
Law Concerning the Promotion of Measures to Cope with Global Warming in Japan
Enforcement order of the above law
Report on calculation of GHG emission submitted by GHG calculation review panel
IPCC guideline
Emission calculation guideline for business – GHG protocol
"Calculation guideline of GHG emission generated by business" issued by Global Environment Bureau, Environment Ministry
GHG to be assessed here are the ones that are specified under the Kyoto Protocol: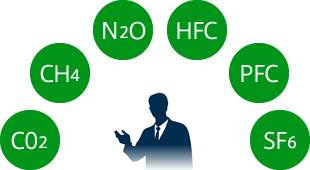 We customize a calculation method for each client through a review meeting
Not only calculating direct emissions from your factory or office, but we can also calculate indirect emissions which are often generated by purchasing electricity and heat. Detailed figures are available by using data of transportation for business trips and commuting. We can also measure the emission generated by events like concerts or Christmas parties. How about throwing "Carbon Free"parties?

Detailed reports on GHG emission:
We report you on purchase price of emission credit (CER) and number of trees to absorb the emission for offset. It is all up to you whether you buy carbon offset or not.
When you choose our tree-planting program, we provide the special plate with your name on your trees at our exclusive forested site in China. We will report the growth of your plants every year. You could visit to see your plants if you hope to do so.
We customize each project based on a size of business, number of offices/employees, type of event, etc. Not only production base, but we are willing to calculate emission out of various events like Christmas parties/illuminations, and many other places like shopping malls.
For more information, please feel free to contact us. We will certainly get in touch with you whether your request is possible or not.